[ecis2016.org] The PMAY HFA Urban was launched in June 2015 and despite initial glitches, the mission picked up pace in 2019. In this article, we track the progress of the HFA Urban in India
What is PMAY Urban?
Launched on June 25, 2015, the Pradhan Mantri Awas Yojana-Urban (PMAY U) aims at bridging the housing deficit in urban India by providing homes to the lower and mid-income groups in urban areas.
You are reading: PMAY HFA Urban: All about the scheme and PMAY urban progress
On November 12, 2020, finance minister Nirmala Sitharaman increased the total outlay for the PMAY HFA Urban (PMAY Housing for All – Urban) scheme by Rs 18,000 crores, in the light of the Coronavirus pandemic and its impact on demand. The increased budget was to help 18 lakh houses to be completed and 12 lakh houses to be grounded.
In this article, we track the HFA Urban progress in India, its popularity, as well as pitfalls, scope and the way ahead.
PMAY Urban progress: Construction of 60,000 houses approved in 5 states
Project proposals of 60,000 houses across five states namely Andhra Pradesh, Chhattisgarh, Himachal Pradesh, Karnataka and Rajasthan was approved by the ministry of Housing and Urban Affairs on February 15, 2022 at the 58th Central Sanctioning and Monitoring Committee (CSMC) meeting under PMAY HFA Urban.
Meanwhile, the urban affairs secretary has also reviewed PMAY-HFA (urban) – progress implementation in other Indian states. According to the union Housing and Urban Affairs Ministry, under the PMAY HFA Urban, the total number of sanctioned houses under is now 114.04 lakh, of which around 93.25 lakh have been grounded for construction and more than 54.78 lakh have been completed and delivered to the beneficiaries.  The total investment under the PMAY HFA Urban mission is close to Rs 7.52 lakh crore with central assistance of Rs 1.87 lakh crore.
PMAY urban progress national indicates the following that was updated on February 7, 2022.
If you track the PMAY urban progress from the beginning, you will know that the initial uptake on the scheme was slow but the scheme picked up pace in FY2019. In January 2018, only 8.5% of the PMAY HFA planned houses had been completed. However, the rate of completion increased to over 31% by June 2019, as the government increased its focus on the completion of sanctioned houses. The occupancy rate of PMAY-HFA completed houses has remained steady and was close to 92% in June 2019.
In 2020, the validated demand for affordable housing stood at 1.12 crore. By December 2019, one crore homes were sanctioned. The central assistance committed for the PMAY HFA Urban mission so far, amounts to Rs 1.66 lakh crore, out of which Rs 72,646 crore has already been released. The total investment for PMAY HFA Urban is Rs 6.41 lakh crore, as per the official data.
As of March 2021, Andhra Pradesh got the largest number of homes sanctioned under the PMAY HFA Urban scheme, that is, 20,40,541 units. Note that in spite of the high sanctioned numbers, completion stands at 4,79,203 units. Uttar Pradesh follows Andhra Pradesh, in terms of sanctioned units.
Read also : Railways' 12,066 acres of unused land up for grabs, in 13 states
Find out how to fill Pradhan Mantri Awas Yojana Online Form 
PMAY HFA (Urban)units: Demand drivers in India
The PMAY-HFA (Urban) subsumes all the previous urban housing schemes and aims to address the urban housing shortage of 20 million by 2022. So far, 4,427 cities/towns have been included under the PMAY-HFA (Urban). Demand for housing has only increased in the last decade, driven by favourable demographics, increasing urbanisation, growth in the economy, rise in income, growth in the number of nuclear families, rise in the number of first-time home buyers and easier availability of home loans.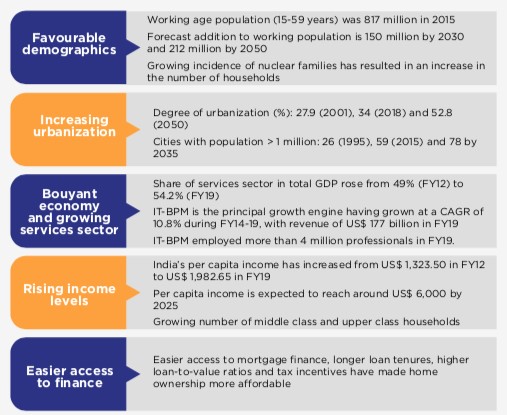 [ecis2016.org] 10 important facts about the PMAY
PMAY HFA (Urban) Components 
| | |
| --- | --- |
| Component | Mission |
| In-situ slum redevelopment | Aims to provide well-built houses, with basic facilities to eligible slum-dwellers. It leverages land as a resource and redevelops slums with the help of private participation. |
| Affordable housing through partnership | To provide affordable housing to EWS, by offering financial assistance and developing projects in collaboration with the public or private sector. Government assistance will be available, if the project has more than 250 units, of which at least 35% is in the EWS/LIG/MIG category. The government has also prepared a draft model PPP policy for affordable housing. |
| Beneficiary-led individual house construction or enhancement | Financial assistance to individuals in the EWS category, to construct a new house or enhance existing house under certain conditions. |
| Credit-Linked Subsidy Scheme (CLSS) | Provides subsidy to first-time home buyers in the EWS and LIG category. |
Also read our guide on how to check PMAY status.
PMAY HFA Urban:  Unit size and subsidy benefits for home buyers
| | | | | |
| --- | --- | --- | --- | --- |
| Category | Size of the dwelling in sq metres (carpet area) | Annual income in Rs lakhs | Loan amount in Rs lakh | Subsidy (in %) |
| MIG-I | 160 | 6-12 | Up to 9 | 4 |
| MIG-II | 200 | 12-18 | Up to 12 | 3 |
PMAY HFA Urban: How to calculate subsidy?  
A subsidy calculator is available on the official website of PMAY HFA Urban. All you need to do is click on the 'Subsidy Calculator' tab and proceed to input details such as your annual family income, loan amount, tenure, etc.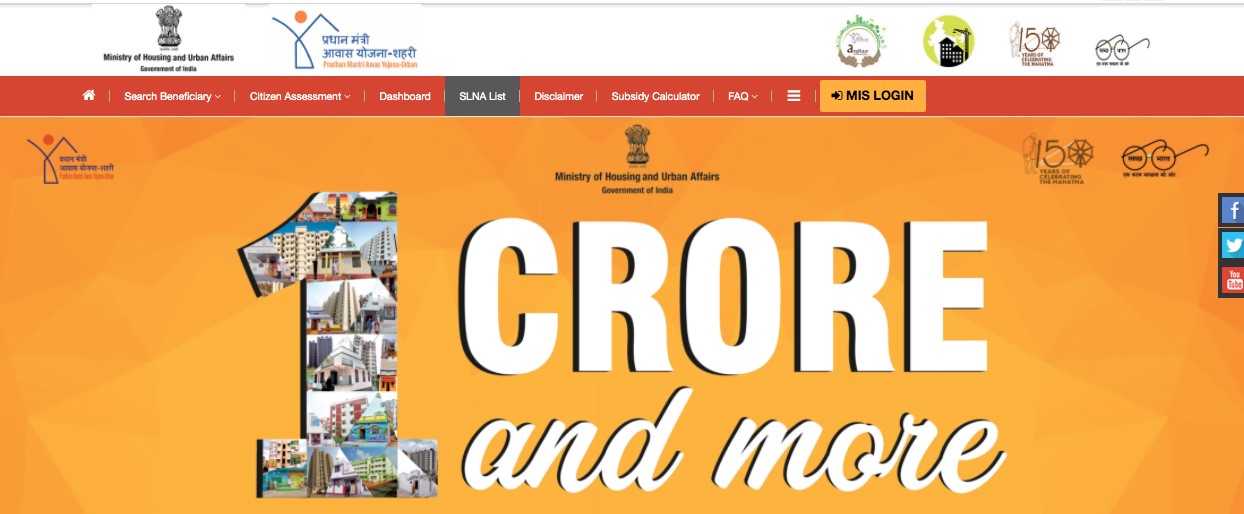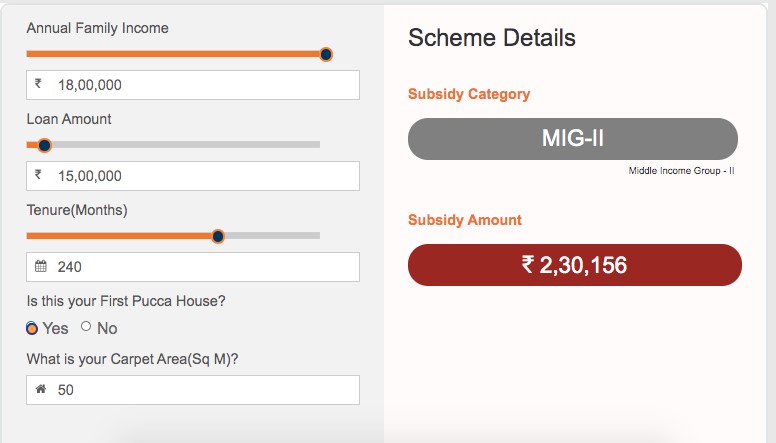 [ecis2016.org] How does the PMAY interest subsidy scheme for EWS and LIG work?
PMAY HFA Urban: Highlights
Timeline
Highlight
Aim
Ongoing
Technology Sub-Mission (TSM)
About 33 alternate technologies have been identified, out of which the Central Public Works Department (CPWD) has issued SoR for 29 technologies. 15 lakh units have been constructed using such technologies.
October 2, 2019- December 2019
Angikaar Campaign
A campaign with door-to-door activities, ward and city-level events, to promote and make available Ujjwala for LPG connection, water conservation, tree plantation, solar and waste management, for PMAY-U beneficiaries.
Continuous
Social audit of PMAY projects
Seeks to study progress and impact of PMAY-U on the beneficiaries and stakeholders. Feedback is taken from direct beneficiary groups, elected representatives in Parliament, state assemblies and urban-local bodies, and representatives from the local self-governing bodies.
Continuous
PMAY-U app for beneficiaries
Beneficiaries can upload photos of completed units and track their application.
March 2019
Global Housing Technology Challenge
To identify innovative technologies from across the globe for the housing construction sector that are cost-effective, sustainable, eco-friendly and disaster-proof. 72 potential future technologies were identified.
November 25, 2019
PMAY CLSS Awas Portal (

PMAY CLAP

)
To integrate all stakeholders in a real-time environment.
January 14, 2020
HousingForAll(dot)com launched
To make available affordable projects that have received occupancy certificates.
February 14, 2020.
45-day all-India online home-buying festival
For the initial 15 days, buyers were able to view offers and shortlist their homes and shall be able to start making the purchase of homes from March 1 till the end of the month.
May, 2020
PMAY CLSS extended
The CLSS scheme was extended till March 31, 2021. Expected to attract investment worth Rs 70,000 crores.
July 8, 2020
Affordable Rental Housing Complexes gets cabinet nod

PMAY affordable rental housing scheme

 launched, to provide affordable rental housing for migrants and urban poor. To be treated as a sub-scheme of the PMAY-U.
December 24,2021
Approved construction of 1.07 lakh houses in 5 states
To enable people with housing who fall under various verticals under PMAY hfa (urban) in Andhra Pradesh, Madhya Pradesh, Maharashtra, Uttarakhand, and Puducherry

 

February 15,2022
Approved construction of 60,000 houses in 5 states
To enable people with housing who fall under various verticals under PMAY hfa (urban) in Andhra Pradesh, Chhattisgarh, Himachal Pradesh, Karnataka and Rajasthan,

 
Read also : Ready to undertake projects of embattled Amrapali Group: NBCC to SC
[ecis2016.org] Yamuna Expressway Authority Plot Scheme 2021 and 2022
PMAY HFA Urban: Major hindrances
Scarce availability of land in urban areas for PMAY HFA houses.
High unit price of houses under HFA urban, especially in areas like the Mumbai Metropolitan Region and Delhi.
Lukewarm response from private developers for the PMAY HFA scheme.
Increasing cost of raw materials for houses under PMAY-HFA.
Operational challenges of the PMAY HFA urban scheme that make it difficult for financial institutions to provide the benefits to those with poor/no credit history, irregular and informal income sources.
[ecis2016.org] All you need to know about PMAY-Gramin
PMAY HFA Urban: How can it tackle challenges?
Unlock prime land
The government needs to unlock developable land at prime locations, which are under government bodies or no-development zones in cities and allocate these to affordable housing projects under PMAY HFA Urban.
"Private and idle forest land existing in the city such as in Thane, Borivali, etc., should be utilised. People who want homes are those working in the cities and this would be a good idea," says Rajan Bandelkar, vice-president, west, NAREDCO.
Streamlining of processes
Although a lot of ground has been covered to increase transparency and streamline the PMAY HFA Urban processes, a considerable amount of work still needs to be done. The government should implement an online, single-window approval system across the country, to streamline the processes.
Strengthen the database
A city-wise database for EWS/LIG beneficiaries of the PMAY HFA should be created, to help identify the right beneficiaries. The government should also provide identification papers/land titles for HFA urban scheme, especially in the case of slum-dwellers.
Standardised project plans and designs
A set of guidance documents with standard project plans/unit plans can be developed under PMAY HFA urban, which can be used by the developers and can help in fast-tracking the approval process for projects, thereby, saving effort, time and cost and avoiding implementation issues. Under the PMAY HFA (urban), the government has introduced risk-based classification of buildings to fast-track building plan approval, inspection and grant of occupancy-cum-completion certificate in some cities and could look at implementing the process across the country.
Leverage innovative and low-cost technology
Under the HFA urban, the government can prepare a set of guidelines regarding the use of low-cost technology/construction methods and raw materials, to help developers implement these techniques in their projects.
"Construction technology in China, Hong Kong, Singapore can be used in India. The government should also reduce duty/taxes on technology that can be imported," says Pradeep Aggarwal, founder and chairman, Signature Global.
Latest News: PMAY Urban
February 24,2022
More than one lakh housing beneficiaries receive PMAY-HFA (urban) benefits in Madhya Pradesh
Madhya Pradesh chief minister Shivraj Singh Chouhan gave PMAY-HFA (urban) benefits to more than one lakh beneficiaries. This would include installment of Rs 250 crore to 26,500 housing beneficiaries, grihapravesh of 50,000 new houses of beneficiaries and virtual bhoomi poojan of 30,000 newly approved houses. Madhya Pradesh has 8.68 lakh thousand houses approved under PMAY-HFA (urban) of which 4.72 lakh houses are completed.
FAQs
Who are all eligible under the PMAY HFA urban scheme?
Those who do not own a pucca house and have not availed of central assistance under any housing scheme from the government of India are eligible for the PMAY HFA urban scheme. A beneficiary family will consist of the husband, wife, unmarried sons and/or unmarried daughters.
How much subsidy can one avail of under HFA urban?
Under HFA urban, for MIG I and MIG II, interest subsidies of 4% and 3% on loan amounts of up to Rs 9 lakhs and Rs 12 lakhs, respectively, is valid.
What is carpet area?
The area enclosed within the walls which is the actual area to lay the carpet is the carpet area and does not include the thickness of the inner walls.
Source: https://ecis2016.org/.
Copyright belongs to: ecis2016.org
Source: https://ecis2016.org
Category: Lifestyle