[ecis2016.org] In this article, we examine how to find the guideline value for a property in Coimbatore
Coimbatore has four revenue districts with 22 talukas and 299 villages that add up to 23,626 streets. The city comprises one of the largest zones in Tamil Nadu, at 11.8%. Coimbatore is among the top three cities in Tamil Nadu, vis-à-vis high guideline values. The region also has 54 sub-registrar's offices. In case you are trying to understand how to find out the guideline value Coimbatore, this article is just for you.
How to find land guideline value in Coimbatore?
Go to the official website of the Registration Department known as TNREGINET website. Under the 'Guideline Search' option, choose your zone, sub-registrar office and village name from the drop down menu and key in the street name, all of which are mandatory fields. This will give you more information about the revenue district and taluka. In this example, we selected Coimbatore zone > Chennimalai sub-registrar office > Chennimalai village > Appai Chetty Street. The search result showed that the region falls under Erode revenue district and Perundurai revenue Taluka.
Check out properties for sale in Coimbatore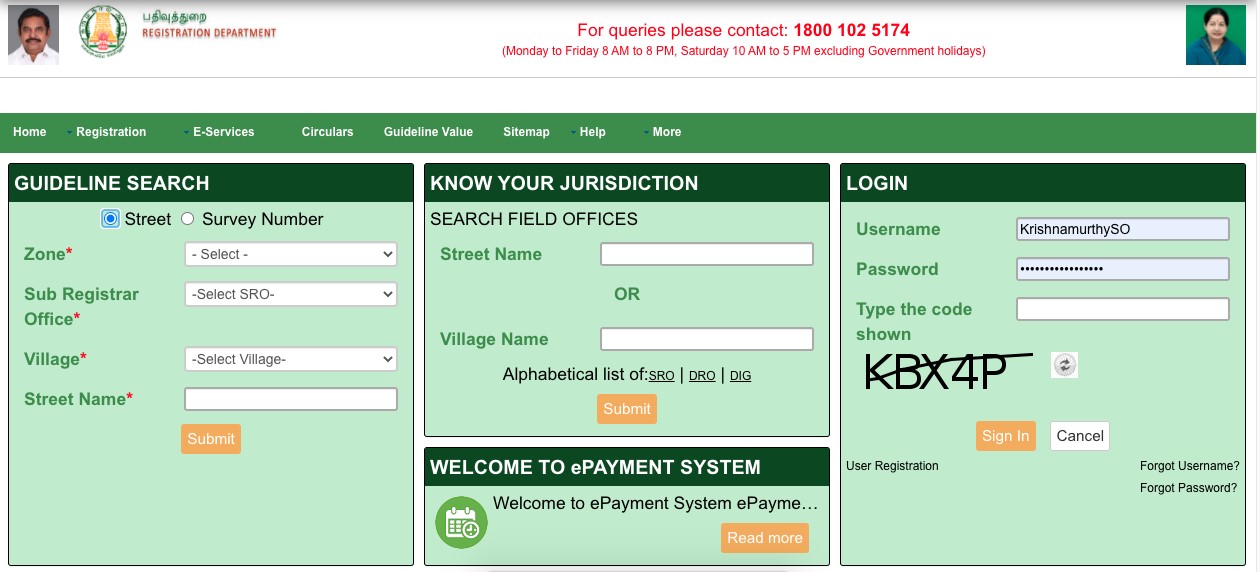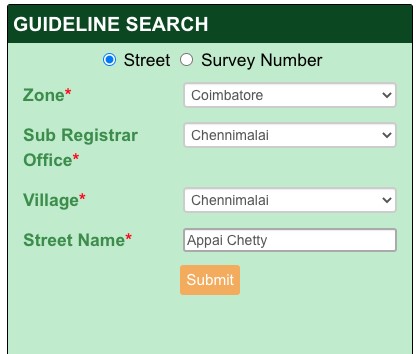 To check the exact guideline value, go to the 'Guideline Value' tab.

Enter other details such as, street or survey number, choose the criteria and proceed. Hit 'Search' to see the street-wise details. Click on the one you are seeking information about.
Check out price trends in Coimbatore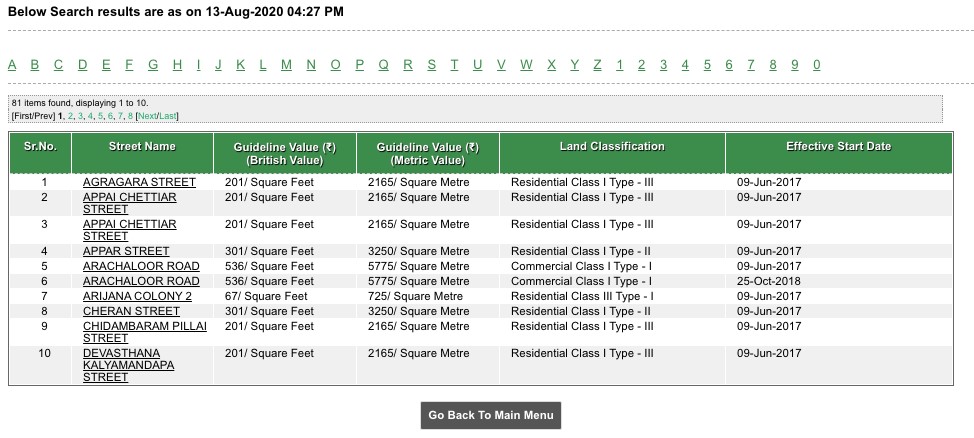 [ecis2016.org] All about Tamil Nadu Housing Board schemes
To check the PWD rates, click on the option. For indicative valuation of the property, you will be required to fill in the details, such as building type, region, calculation period, insertion unit, age of the building in years, floor, area of unit, the material, wood and roof type, floor type, building amenities, compound wall and garage details.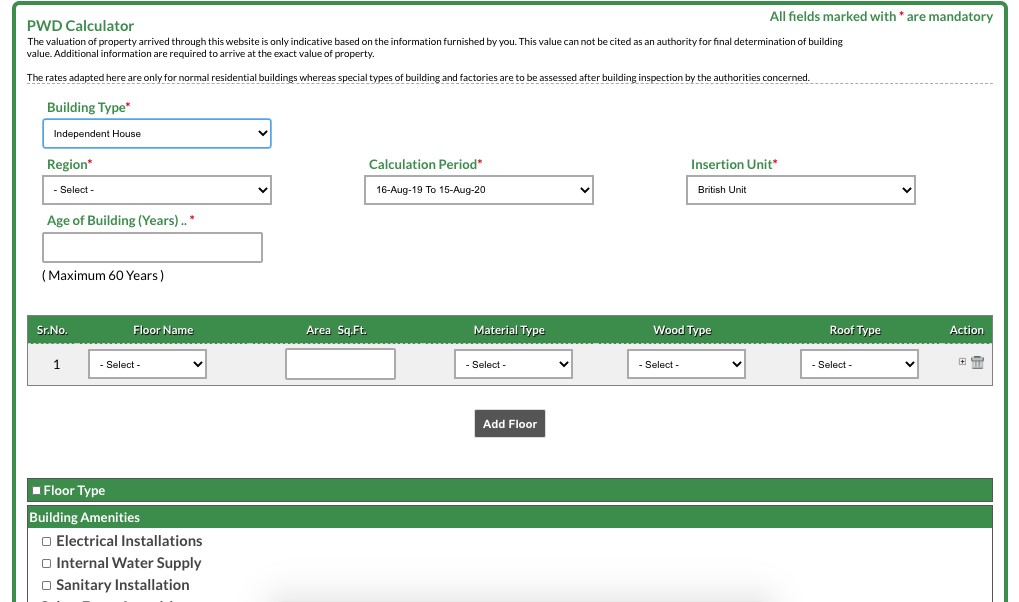 To calculate the fee, you will be required to fill in details such as nature of deed, property type, area of the unit, building details, etc. Once you have completed the form, you can calculate the online fee.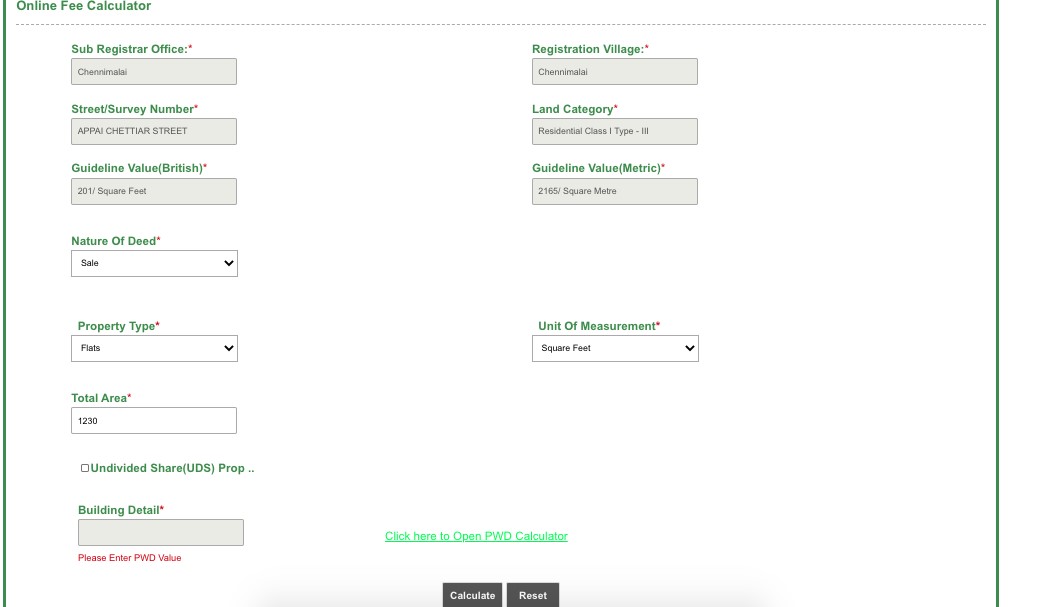 [ecis2016.org] What is Guidance Value?
FAQ
When was the guideline value in Coimbatore last revised?
Guidance values of properties in Coimbatore were last revised in 2017.
Where can I address queries regarding guideline value in Coimbatore?
You can call on 18001025174 or write to helpdesk@tnreginet.net. The department works from Monday to Friday, 8 AM to 8 PM and on Saturdays from 10 AM to 5 PM, excluding government holidays.
How do I ascertain the stamp duty and registration fees?
The guideline value register is available with the registering officer. You can check the stamp duty and registration fees, as well as other charges to be paid.
Source: https://ecis2016.org/.
Copyright belongs to: ecis2016.org