[ecis2016.org] Reverse migration of labour due to the COVID-19 pandemic, may benefit the real estate market in India's smaller towns, providing opportunities for developers and home buyers, alike
The reverse migration of the labour force in the aftermath of the Coronavirus pandemic, has created a peculiar situation in real estate markets across the country. While developers in the top cities are struggling to retain workers at the project sites, their counterparts in tier-2 and tier-3 cities are gaining by default. Moreover, the developers in these smaller towns, are getting the labour force at a much lower cost.
You are reading: Reverse migration: Will real estate in tier-2 and tier-3 cities gain by default?
Here are some examples:
Alok Rawat, a project manager with a real estate company in Noida, was transferred to Kanpur, with the mandate that the project of the given builder takes off as per the schedule. In Rawat's assessment, this was not feasible, owing to logistical challenges, labour shortage and unwillingness of contractors in Delhi-NCR, to move their labour force to a tier-2 city. However, he was surprised by repeated calls from contractors, asking for work in the very same city.
Pawan Verma, a home buyer in Patna, received a letter from his builder that an earlier letter pertaining to delay in the project, citing the force majeure clause, would be null and void and that the project would now be delivered on time.
Sandeep Agrawal, a property broker in Patna says that labourers' daily wages in the Delhi NCR region was in range of Rs 350-500, depending upon the project. Now, they are more than willing to work at Rs 250 in places like Patna, Kanpur, Kochi, etc., in proximity to their home towns, where the cost of living is much lesser, compared to the metro cities.
In tier-1 cities, labour shortage is a reality that real estate developers are trying best to deny. An on-ground assessment by Track2Realty found labour shortage of around 30%, across the projects. Had the developers been sensitive to the labourers in the first wave of COVID-19, things would not have been as challenging as it is today. Reverse migration during the first wave, following the lockdown, has not been addressed in a manner that the labourers could come back to work. This labour shortage is leading to a lack of confidence among home buyers as well, since project delays seem inevitable now, with supply chain hurdles also being a reality. This will also dent the bottom line and profit margins of the developers. Vaccination and labour welfare, which ideally should have been an intrinsic part of the CSR, has not moved beyond headline management, on part of the developers.
Read also : BhuNaksha Rajasthan: Know everything about it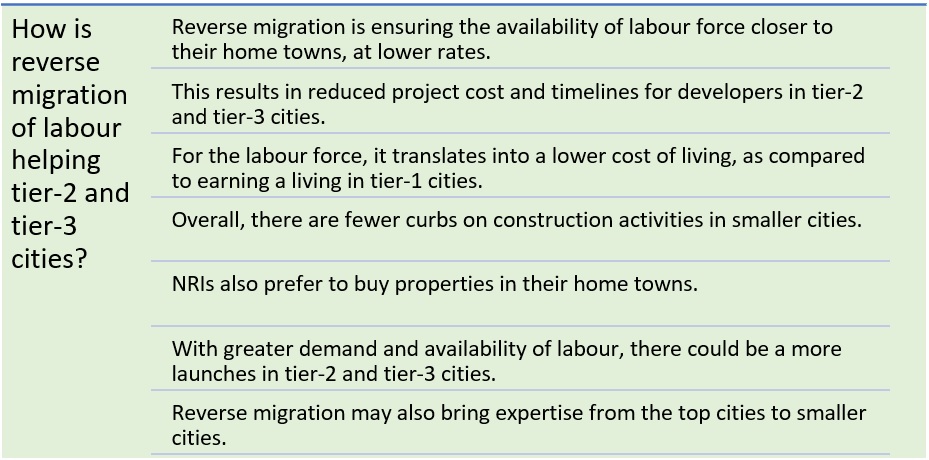 Also read: Impact of Coronavirus on Indian real estate
Impact of labour movement due to reverse migration
"Project cost and project timelines have improved across tier-2 and tier-3 cities, due to the availability of a regional labour force, post the pandemic. It is a win-win for both, the developers, as well as the labourers. Two things have accelerated this process – one is that there are fewer overall curbs on construction activities in smaller towns and secondly, the NRIs who are coming back have a preference for their home town as against metro cities," points out R Shetty, a contractor in Kochi.
It is not just the reverse migration of labourers from the top cities that is benefitting the housing projects in smaller cities. Requesting anonymity, the India marketing head of a Dubai-based developer, admits that they had no choice but to release the Indian labour force over there. Construction activities, in many of Dubai's projects where the skilled and unskilled labour force from India has been working, is at a standstill. As a result, this labour force, which has returned, is looking for work closer to their home towns.
[ecis2016.org] Will tier 2 cities in India witness a housing boom
How will COVID impact real estate in smaller towns?
Read also : Is a gaothan property a safe investment bet?
As per industry estimates, the share of organised real estate in India's top 10 cities is nearly 75%. The remaining tier-2 and tier-3 cities only have 25% of the market share. However, this ratio could change dramatically, following COVID-19. Cities like Patna, Ranchi, Kanpur, Lucknow, Bhubaneshwar, Coimbatore and Kochi, could be the next demand drivers of real estate. These cities stand to benefit from three factors:
The labour force's preference to work closer to the home towns.
The new norm of 'work from home', which is pushing young professionals back to their home towns.
NRIs' preference for properties in their home towns over properties in metro cities.
How will reverse migration affect realty demand in smaller towns?
According to economic researchers, this trend is not new. Even during the initial push given to the MNREGA scheme, the developers in the metro cities had to take a bit of a hit. The issue of labour shortage was the talking point of all the real estate debates during those years, they point out. Moreover, the reverse migration is not uniform across the 30-odd tier-2 and tier-3 cities. The balance is tilted in favour of cities like Patna, Bhubaneshwar, Cuttack, Kanpur, Lucknow, Kochi, Coimbatore, etc., from where most of the labour force had traditionally been migrating.
The reverse migration could also bring practices that were followed by national-level developers, to the project by smaller developers in these cities. The upcoming months may also witness a rise in new launches in tier-2 and tier-3 cities and a corresponding increase in the market share of these smaller cities.
[ecis2016.org] K-shaped recovery on the cards for Indian real estate
FAQ
How many tier-2 cities does India have?
There are 104 tier-2 cities in India.
What is the share of tier-2 cities in India's organised real estate market?
Tier-2 and tier-3 cities account for 25% of the market share of organised realty in India.
(The writer is CEO, Track2Realty)
Source: https://ecis2016.org/.
Copyright belongs to: ecis2016.org
Source: https://ecis2016.org
Category: Lifestyle